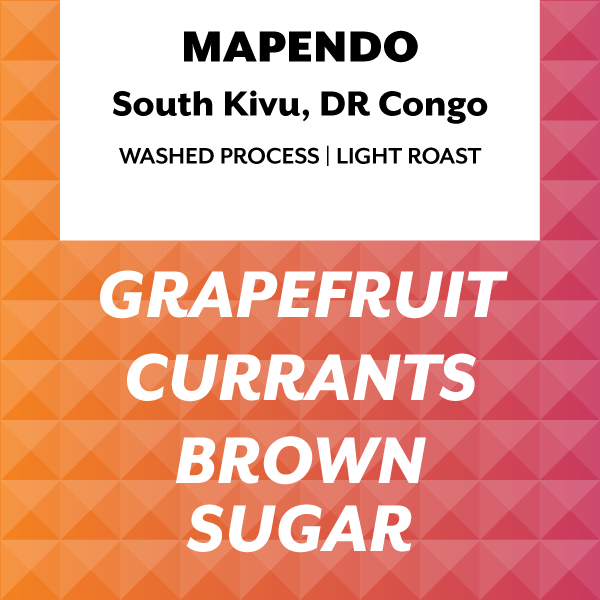 Democratic Republic of Congo Mapendo 2021
Coffee overview
A coffee with both bright acidity and broad complexity that stunned us when we first tried samples. It had an arduous journey to get to us: pandemic lockdowns, extended rain season & delayed drying times, a volcanic eruption & evacuation, a boat stuck in a canal, extended delays at port, Midwest US tornadoes, and infamous Wyoming winds. The cup still shines, a testament to the incredible work by producer Mighty Peace Coffee and the Muungano Cooperative.

Coffee flavor profile

Grapefruit, currants, brown sugar, blackberry, green apple

Acidity: intense, complex
Sweetness: tart
Body: mild
Recommended brewing
A very light roast we prefer with paper filter methods. Recommended brewing with low hardness water. As espresso, expect a very bright and grapefruit-dominant note.

 ORIGIN

Country: Democratic Republic of the Congo
Region: African Great Lakes
Community: South Kivu
Farm: Mapendo Women's Group
Farmer: Multiple smallholder farmers
Producer: Muungano Cooperative

PROCESS

Washed


VARIETY

SL-34


TRADE PARTNER

Direct Trade
Imported by Mighty Peace Coffee