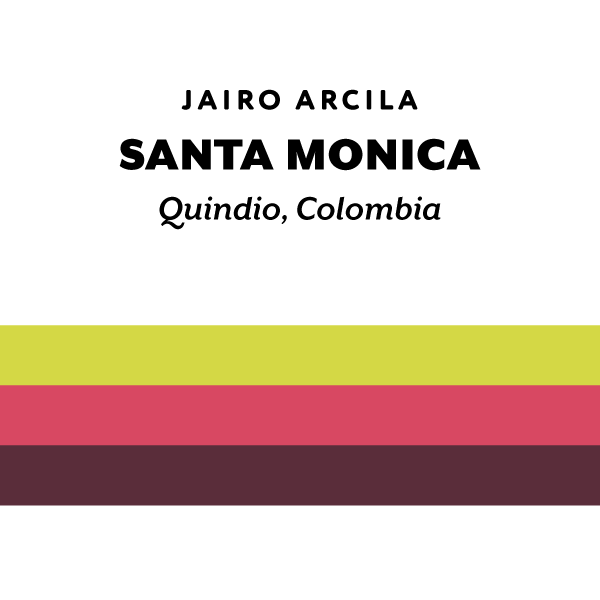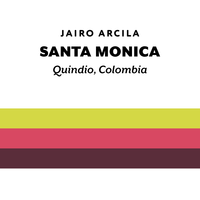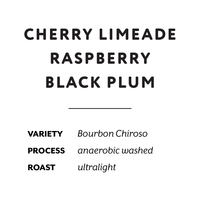 Coffee overview
A very bright and clean cup from producer Jairo Arcila. Jairo has been farming and producing in Quindio since 1987. This lot comes from his Santa Monica farm. A unique variety and process make this a standout cup. These Bourbon Choriso cherries were dry fermented (anaerobic) for 24 hours, then washed in a traditional fashion.

This is our first coffee with an 'ultralight' roast description. We recommend a resting period of 30 days after the listed roast date.
Coffee flavor profile

Cherry limeade, raspberry, black plum

Acidity: vibrant
Sweetness: light, honeyed
Body: none
Recommended brewing
Filter: Recommended 4 weeks of rest. It is less soluble than our other roasts and may require a slightly finer grind. We recommend 60GH / 20KH or similarly low hardness water.
Espresso: Recommended 4-6 weeks rest and low hardness / high buffer water (20GH 60KH).

 ORIGIN

Country: Colombia
Region: Quindio
Farm: Santa Monica
Farmer: Jairo Arcila
Producer: Jairo Arcila / Cofinet

PROCESS

Anaerobic washed


VARIETY

Bourbon Choriso


TRADE PARTNER

Cofinet