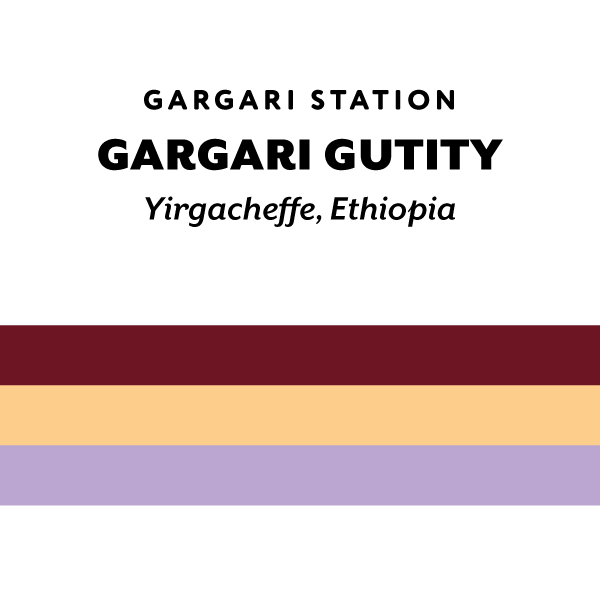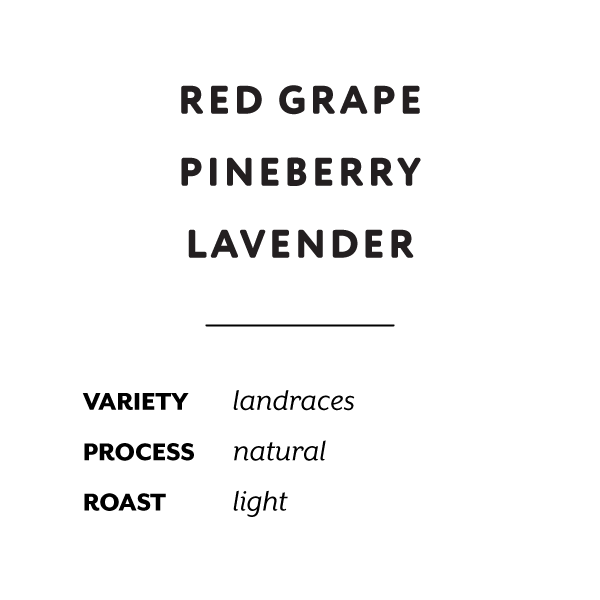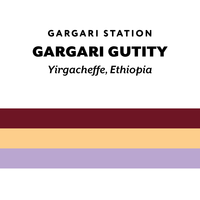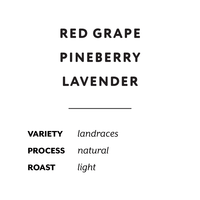 Ethiopia Gargari Gutity natural
Coffee overview
We are thrilled to add two lots from the same station to our menu as we continue to explore Ethiopia in 2023. This natural lot brings a sweet and lingering contrast to the accompanying washed lot. The cup maintains several similarities, including a sweet and somewhat tart red grape acidity, as well as a laden floral component, this time in the form of lavender. The middle sweetness is lightly fermented citrus and tropical fruits.
This natural lot was additionally separated by variety. Known locally as Kurume, this variety is amongst the smallest found anywhere in the world. And believe us when we say-- we have not encountered a bean this consistently small in our history as a company!
Gargari station is in the famous Yirgacheffe zone, and collects cherries from about 3,200 farmers. This lot separation and production was carried out by Primrose Coffee.
This coffee is also available as a set-- check out Process: Ethiopia
Coffee flavor profile
Red grape, pineberry, lavender.
Acidity: tart, tartaric
Sweetness: jammy, lightly fermented
Body: syrupy, floral
Funk: Level 2 (funk present)
Recommended brewing
Filter: This coffee is soluble (more than our other current Ethiopia offerings) and responds well to regular or slightly coarser grinds on a slightly reduced ratio (we like 1:17 here).

Espresso: recipe in progress
We use 60 hardness, 20 buffer water heated to 198F in all of our recipes.
Information
Producer: Primrose Coffee (Mr. Abreham Mengiste & Mrs. Meseret Workneh)
Farm: multiple smallholder farmers
Station: Gargari Station
Region: Yirgacheffe
Country: Ethiopia
Elevation: 2,000
Variety: 74110 field blend
Process: Washed
Sourcing: Coffee Quest