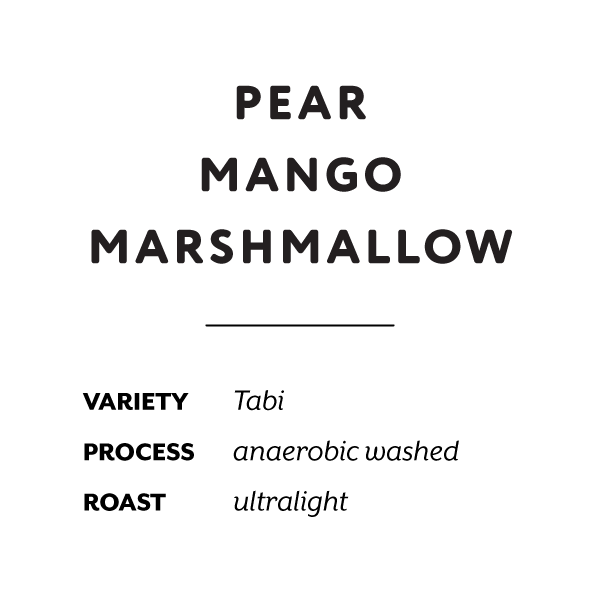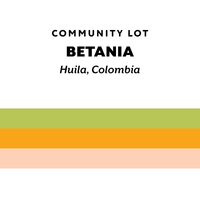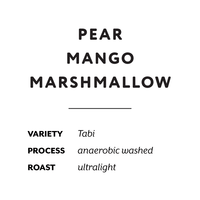 Coffee overview
This cup is very sweet and smooth, with subtle stonefruit notes like pear and mango. An underlying body is creamy and gives great balance to the cup. These Tabi cherries were dry fermented (anaerobic) for 24 hours, then washed in a traditional fashion.

This coffee has an 'ultralight' roast profile. We recommend a resting period of 10 days after the listed roast date.
Coffee flavor profile

Pear, mango, marshmallow

Acidity: clean
Sweetness: moderate, sugary
Body: very light, creamy
Recommended brewing
Filter: This ultralight roast rested and enjoyed after 2 weeks of rest. It is less soluble than our other roasts and may require a slightly finer grind. We recommend 60GH / 20KH or similarly low hardness water.
Espresso: Recommended 4-6 weeks rest and low hardness / high buffer water (20GH 60KH). It is difficult to slow this one down no matter the grind fineness. Embrace the flow. 

 ORIGIN

Country: Colombia
Region: Huila
Farm: Betania


PROCESS

Anaerobic washed


VARIETY

Tabi


TRADE PARTNER

Cofinet